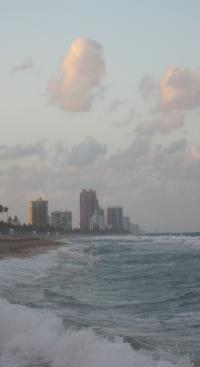 This is a place to enjoy yourself. Fort Lauderdale has many fantastic communities to live in. Equiped with many activities, and beaches it will be like living in paradise. A lot of people think every beach is the same, but here in Fort Lauderdale they are better than ever! Since they are eco-friendly and clean, they've been awarded the Blue Wave Certification. Not only that but while experiencing the outstanding sunny weather most of the world envies, you'll be able to enjoy eating out at different types of resturaunt offering various types of food. Or maybe go shopping along the beach at optional shops. Also on special occasions you can go to the near by Boomers Fun Center and hang out while racing go-carts, splashing in bumper boats and playing video games in the arcade.
Besides offering many activities, Fort Lauderdale is beautiful. From the luxerious houses to the beachside hotels, everything is designed and decorated magnificantly. You'll definitely be able to relax and winde down.
So when you are ready to check out or purchase a home, contact Quantum One Realty Team. Because they know the neighborhoods and will get you into the home you want today.